Insured, reliable, experienced and caring house and animal sitting services, in and around Tewkesbury, Gloucestershire.  DRB checked, with references available.
****Please note that I now only offer live-in animal care, and am not taking any more new drop-in (e.g. to feed cats) animal care clients, other than new Horse Help ones, and then only if they can be accommodated from wherever I am going to be based at the time of cover being needed.  Also, I do not provide dog boarding services in my own home.****
Sit! Stay! House & Animal Sitting  (formerly Sit! Stay! Animal Care) provides house sitting, animal care, horse help and pet minding services for clients whilst they are away.
If I am available, I am also willing to step in at very short notice, if for example, you have an emergency.
Animals are cared for in their own homes, where they are happiest; and you will receive reassuring updates by email or text whilst you are away (I do not post photos of your animals on social media in case this attracts dog thieves or other unwelcome attention, but I do send them by MMS).
"Sit! Stay! House & Animal Sitting" is the trading name of Mrs Christine Day (Chris).
I am British Horse Society qualified, Natural Horsemanship trained, fully insured, and can provide references.  I have been DRB background checked, and have many years' experience, looking after a wide variety of animals.  I have also successfully completed a Canine Behaviour Training Course, and a Pet First Aid & CPR course, and am currently studying Animal Communication and doing further horse training with Jenny Pearce in Australia.  I have done my Level 2 reiki healing course and can now offer reiki healing to clients' animals too.
If you cannot find the information that you seek on this site, please do not hesitate to contact me.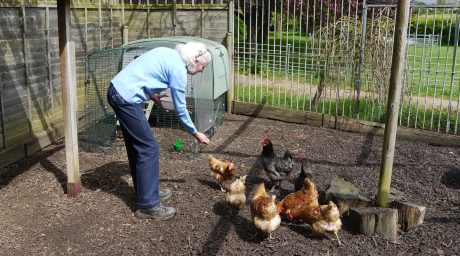 My special thanks to those clients who have taken pictures of me with their animals for this website.